The Story Behind the Story
Meet the Creators of Moocher Marmots
Meet the Marmots
Jamie and Sara Caraker were 10 and 12 years old when they set out on a seven state road trip to Yellowstone National Park with their aunt and uncle, Cindy and Kevin Burchfield. They squeezed into the truck camper with video games and all the snacks they could pack. Along they way they encountered one stray skunk, huge ravens, baby bison and most memorably Moocher Marmots.

The first marmots they encountered were wild and living happily just off the trails around the campground. However as the girls waited for Old Faithful to blow, they were greeted by a ratty array of marmots who were begging from the unsuspecting tourists. Setting up with they paws outstretched and grabbing at the air, the marmots were clear with their intent. Resisting the urge to feed them was hard for the girls, but they could see from the missing patches of hair on their tails that snacks were not in the marmots' best interest. That night the girls wrote about the "Moocher Marmots" in their camping journals.

Years later Aunt Cindy has filled in the rest of the story in the whimsical adventure that is Gimme Gimme Moocher Marmots.
Meet the Author
As a writer and illustrator, Cindy Burchfield is lost in Alaska. It was here she rediscovered the marmots that had charmed she and her nieces years before.
Cindy has a passion for the Alaska lifestyle. She and her husband, a fishing guide, live it to the fullest. The imagery and icons of her travels in the Western U.S. and Alaska are captured in her watercolors and stories.
She is an avid outdoorsman -- fishing, hunting, hiking and exploring the Last Frontier. She has hoisted a 214-pound halibut from a depth of 225 feet, landed and netted two salmon simultaneously and hunted remote beaches from her friend's Cessna 180. She is undeniably Alaskan.
Cindy began painting as a child with her grandmother, Juli Wilson, an accomplished oil painter. It was watercolor that landed Cindy in her first museum show at fourteen in Oklahoma City. An artist was born. Under the direction of her college professor, Arni Anderson, Cindy produced a considerable portfolio of watercolor work, most of which sold before graduation. A businesswoman was born.
Her talent for the written word as well as the visual arts landed Cindy in the field of marketing. She is also a member of the Juneau Artists Gallery, a shared endeavor of almost 30 local artists. Lost in Alaska Studios is Cindy's home that she shares with her husband, Kevin, Moose the Lab and Whiskey the Scottie, located high upon Marmot Bluff on North Douglas Island just across the channel from Juneau, Alaska.
See more of Cindy's paintings at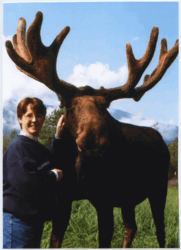 Yes, of course, he's a real moose.
Cindy appears here with Seymore the Moose at the Alaska Wildlife Convervation Center in Girdwood, Alaska. Far from tame, Seymore lives in a large meadow they provide. He can be enticed by his caretakers to the camera with a half a banana -always in moderation though. He is a spokesman for Alaska and all its wild things.
Sara and Jamie on their road trip